March 4-10, 2018
Spend 7 Days, 6 Nights in
Canafistula, Costa Rica with Me to…
(Just 1-hour from Liberia Airport)
* Deepen your Christian meditation practice
* Establish an authentic date with God that you'll love
* Enjoy relaxing Christ-centered yoga & exercise
*Fellowship with like-minded believers
*Spend time in nature and on the beach
*Break free from busyness and distractions
*Pamper your mind, body, and spirit
*Reconnect and draw closer to God
* Reset your life!
Prices for this trip are incredibly affordable and include lodging, all meals (at the center) and workshops/classes along with materials. Price does not include airfare.
 Hold your spot with  $295.00 deposit and easy payment plan. 
Coming alone? No problem, you'll be matched up with a roommates. Couples welcomed.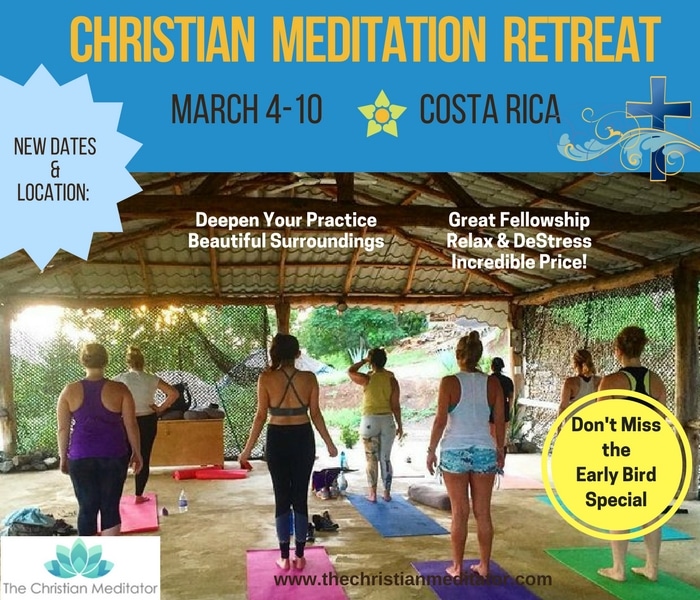 Join me in the quiet and beautiful Cañafistula Valley in Costa Rica where we will be in the midst of 4 of the most popular and beautiful beaches in the area, travelers can choose any aspect of the Costa Rican landscape to enjoy while here.
You'll received guided Christian meditation instruction (workshops), Christ-centered yoga or exercise, fresh, locally sourced cuisine, beach visits, cenotes (underwater caves) to explore, and many other activities, this trip is the perfect way to relax, release, reconnect, and re-energize.
Accommodations in beautiful chalets in El Sabanero Eco Lodge
Freshly prepared vegetarian meals every day
Optional beach visits (to 4 different beaches to choose from), ziplining, horseback riding, snorkeling, sunset cruises, and many more arranged by the lodge staff
Includes transportation to and from airport.
ONE BEDROOM CHALETS:
 The luxury cottages built from local teak in the true fashion of Costa Rica , are unique in style and quality. These spacious units are beautifully decorated and feature a queen or king size bed and additional twin beds for double or triple occupancy with fresh linens embroidered with a lovely en suite bathroom, air conditioning and a large terrace to relax in a rocking cowboy style. The Sabanero is equipped with wireless internet and some cottages with disabled access.
Reconnect with God and Yourself
Come and get refreshed in God and learn how meditating on Christ and the Scriptures will deepen your relationship with God, help you let go of stress, grow more spiritually, and maintain your peace of mind even during times of crisis.
The GETAWAY WITH GOD Christian Meditation Retreat is going to teach you the life-changing practice of Christ-centered meditation, a spiritual practice that many Christians have never done before, but that is encouraged throughout the scripture. Joshua 1:8 tells believers that it is through meditating on Christ that we gain true success in life. Yet not the success of the world, the success of a loving, joyful, and thriving relationship with Jesus Christ.
                                                                     Facilitator Rhonda Jones
Christian Meditation Teacher, Rhonda Jones, will instruct and mentor attendees in the practice of Christian Meditation and other spiritual disciplines that promote peace, joy, and intimacy with God. Rhonda Jones is the author of 23 Christ-centered meditation and affirmation CDs and the book, A Date with God. She is also the creator the "Help Me God Change My Life Program" and "Abiding in Christ 12-Week Online Christian Meditation Course for Beginners." She believes that spiritual growth and personal transformation begins when we learn to "be still," meditate on scriptures, and connect with God in spirit and truth. Rhonda, a 400 + hour yoga instructor, attended dual yoga trainings at Nigora Center in Berkeley as well as Yahweh Yoga in AZ. She loves to combine the scriptures and Biblical principles along with Christian meditation to promote strength, flexibility, peace of mind, and greater awareness of God.
This Christian Meditation Retreat will Change Your Life Forever!
Sample Daily Schedule:
7:00 – Tea or Coffee
7:30-  Morning  Group Meditation
8:00- Christ Centered Yoga Practice
9:30-  Breakfast
10:30- Workshop: All workshops focus on Christian meditation and its techniques and instruction, establishing or deepening an authentic practice, tools for healing inner hurts and wounds, maintaining peace of mind, and eliminating stress along with guided practice.
1:00- Lunch
2:00 – 5:00- Optional Free time or Group Activities Planned:
Surfing, Sunset Cruise Tour, Rafting, Turtle Nesting, Full Day Adventure Tour*
Zip Lining, Horseback Riding, Snorkeling*
Meditation Walks Along the Beach
Hiking and Exploring the Area
Work on Assignments
Group Meditation or Personal Quiet Time with God
*At additional fees payable at retreat
5:30 – Guided Christian Meditation
6:00- Workshop: All workshops focus on Christian meditation and its techniques and instruction, establishing or deepening an authentic practice, tools for healing inner hurts and wounds, maintaining peace of mind, and eliminating stress along with guided practice.
7:00- Dinner
8:30-  Evening Activity: Gentle Candle-light Yoga, Soaking in God's Spirit, Praise Flags Worship, Prayer Circle, etc.
Extras: (Not included in price of retreat)
Surfing, kayaking and other fee-based excursions
Flight to and from Costa Rica
Any meals outside of the retreat center
Early Bird Special Has Ended! But…
Learn more about the REFERRAL PROGRAM.
FIND OUT IF THIS RETREAT IS FOR YOU?
A GOOD FIT IF:
You have a genuine interest in Christian meditation and want to deepen your practice and spend time connecting with God in a quiet and serene location.
You love meeting and getting to know new people.
You desire to grow spiritually and are open to participating in workshops and instructor-lead activities that will move you toward this desire.
You enjoy walking, eating healthy foods, and trying new things.
You have an open heart and mind and enjoying sharing the love of Christ.
You want to incorporate fun activities and some socializing while also addressing your spiritual needs.
NOT A GOOD FIT IF:
You need internet access and technology to stay sane. We want you to leave the world of technology behind for a few days so you can focus on others, yourself, and your relationship with God.
You are looking for "mostly" a FUN-FILLED vacation! Although we are planning some optional and group activities during our free time (hiking,  paddle surfing, and even kayaking) our main priority will be to cultivate a life-long Christian meditation practice.
You find walking difficult.  There may be lots of walking.
You're looking for the luxury amenities of a 4 star hotel.
Stepping out of your comfort zone just isn't your thing.
You are seeking to connect with God in a quiet setting with few distractions or activities.  I am planning on hosting some retreats for those who really want to JUST deepen their practice and spend time with God that incorporates activities that support this.
Read Previous Christian Meditation Retreat Testimonials:
"I am so excited about this weekend, the tools that were given, the new friends I've made, the beauty if Gods creations, and all the wonderful organic food I have enjoyed! With the blessing of the retreat and tools, I feel I have a new responsibility to put them to use and pray for the Holy Spirit to keep reminding me of them." -­ Lucy, AL
"Overall very good opportunity to connect with people who are sharing a similar struggles (being quiet with God). Loved the yoga and practice meditation sessions. I now feel equipped to "Be Still" at home/work/where ever I need to be." -Becky, TX
"The retreat was excellent, the tools and learning experience and practicing meditation has had a great impact on me. The highlights for me were learning and meditation. You have spent a lot of time and effort going deeper and "creating" these helpful tools through your own experience." – John, AL
"The retreat was held in a beautiful location with many places to go for meditation; I was truly blessed by every session, especially the yoga exercise." – Gloria, CA
"I loved and enjoyed the retreat! I think it is a must for anyone that wants to learn how to be still in the presence of God. After attending the retreat I feel that I am able to overcome stress, doubt, worry, fear and insecurity through the power of meditation and surrender to God. The highlight of the retreat for me was the beautiful location and trip to Mount Shasta and the Waterfalls. Rhonda is very knowledgeable and passionate about her ministry and works very hard to deliver a quality product. I enjoy her soft, sweet and kind spirit. May God bless you can continue on in your gifts and anointing." – Michael, CA
"The retreat was a glorious experience, I feel cleansed of so much toxic waste. I feel convinced and equipped to continue meditation as a daily devotional gift. The examples given allow me to see myself, applicably in real life situations. I see you and experience you with a gift of calming, love, purity and authentic Christ like qualities." – Beverly, CA
"Rhonda thank you for a beautiful inspiring retreat, the meditations were powerful and helped me to understand specifically how to meditate on the scripture. Your vast knowledge during the workshop was impressive and I thoroughly enjoyed and learned from the topics." – Laura, CA
"This weekend was amazing. I have had a pattern of running from the emotions I felt in quietness. This weekend allowed me to feel and believe this is the beginning of transformation. I now have the tools to live my life as a believer and act like one, free from stress and anxiety. Thank you Rhonda and Peggy for all of your work to put this together and facilitate the weekend." – Pam , AZ
"Thank you very much. This was the most exciting 4-days that I have had in years. I never meditated nor have done yoga, so thank you. My highlights of the retreat were understanding spiritual meditation and meeting new and wonderful Christians or shall I say God's children. I will walk away with new tools to better my life and a better way to Be Still and listen to God. "- Shelia , WA
"The relaxed tone was very inviting. I felt immediately at ease in the environment that Rhonda has cultivated. I feel like I will be leaving this retreat with an arsenal of tools to deal with over-activity, distractions, and anxiety. I am so grateful for Rhonda's joyful heart and giving spirit. She was a wonderful facilitator."- Joe , WA
"This retreat was wonderful. The atmosphere was conducive to our goal! Everyone was friendly, loving, and wonderful to each other. This retreat has given me hope and hope to share with my family. The retreat has given me a clarity and peace that was not there before. The highlights were the "Scrub the Wall" meditation, the "Scripture Meditation," and EVERYTHING outside! I think Rhonda Jones' demeanor was professional, personal, loving, and KNOWLEDGABLE! I could listen to her all day. The course content was COMPLETELY relevant to my life. It was easy to learn and just soak in all the information as I was so thirsty for it."- Veronica , WA
"The retreat was wonderful! I feel I have had a couple of breakthroughs during meditation sessions and I now have tools to take home with me from what I've learned. Rhonda is an amazing God-loving gentle woman. The course content was very relevant to my daily life."- Jenny , WA
"The retreat was everything I hoped it would be and more. I learned new spiritual tools that will help me in my search to know God more intimately. these tools are "priceless." Rhonda, you are a sweet and gentle spirit whose love for God shines through. Thank you for being obedient to God's calling- your work helping Christians get past the "talk" into the "walk" with God." – Anoymous
"I was extremely impressed with the retreat. Everything was done with a spirit of excellence. I will forever be changed through the power of meditation (time with God). The principles you shared were confirmations that I must "Be Still" and awaken the power within. Rhonda, you have a beautiful spirit and are walking in what God has called you to. To use your pain and testimonies are an important and necessary part of the retreat experience. Your past pains were there to guide others through the same life struggles we all face. The course content and stories were sent to you by the Holy Spirit. I have a prayer room in my home where I use to thresh on the floor 3-4 times per week with God. The cares of life took me from that. So you see God used you to be my GPS guide to guide me back to Him!" – Charrisee, CA
"My overall thoughts of the retreat are awesome. It was sad to pack up and leave. The highlight of the retreat for me was making new friends and the Soaking in the Spirit session. My goal for the retreat was to be forever changed and experience God like I never have before and the Holy Spirit wrapped his arms around me and I felt him give me a hug. I cried like when your parents give you a much needed hug. I also flet or visioned Him washing away my pain and hurts. Rhonda was great. I love her honesty and "down to earth" attitude. She was relate-able and I appreciate her willingness to share that even though she knows how to meditate and be one with the Lord, she still gets pissed and still wrestles with self-confidence. It shows that this is a process and we will never fully be at a place where we don't have to learn, grow, and ask for forgiveness. I would like to see this be a yearly thing. This has been a transforming and life changing activity." – Aletha, WA
"The retreat impacted my life in a powerful way. Rhonda you are living in the moment! Praise the Lord! Follow the passion of your life and it will lead you to peace and joy that is Jesus." – Sherry, CA
"My first impression of the retreat was that it completely changed my life. I lived a life of confusion, doubt, and depression and was prayer-less prior to the retreat. Upon learning to still my mind and soul, I learned the power of prayer and the tools to use it properly. My highlights were the great company I was in. The people were fantastic, the activities were amazing, and the material inspirational. This retreat has changed my life and the lives of all the people I wll come in contact with. Lives were changed and Jesus was glorified through this retreat. I absolutely adore Rhonda. She was graceful and present and she delivered the material in a loving way full of God's love. I learned a lot from her simply because of her love for life, others, and for Christ. Thanks to Rhonda and this retreat depression, confusion, and doubt no longer linger at my door." – Lanora, WA